LAND ROVER DEFENDER TROPHY EDITION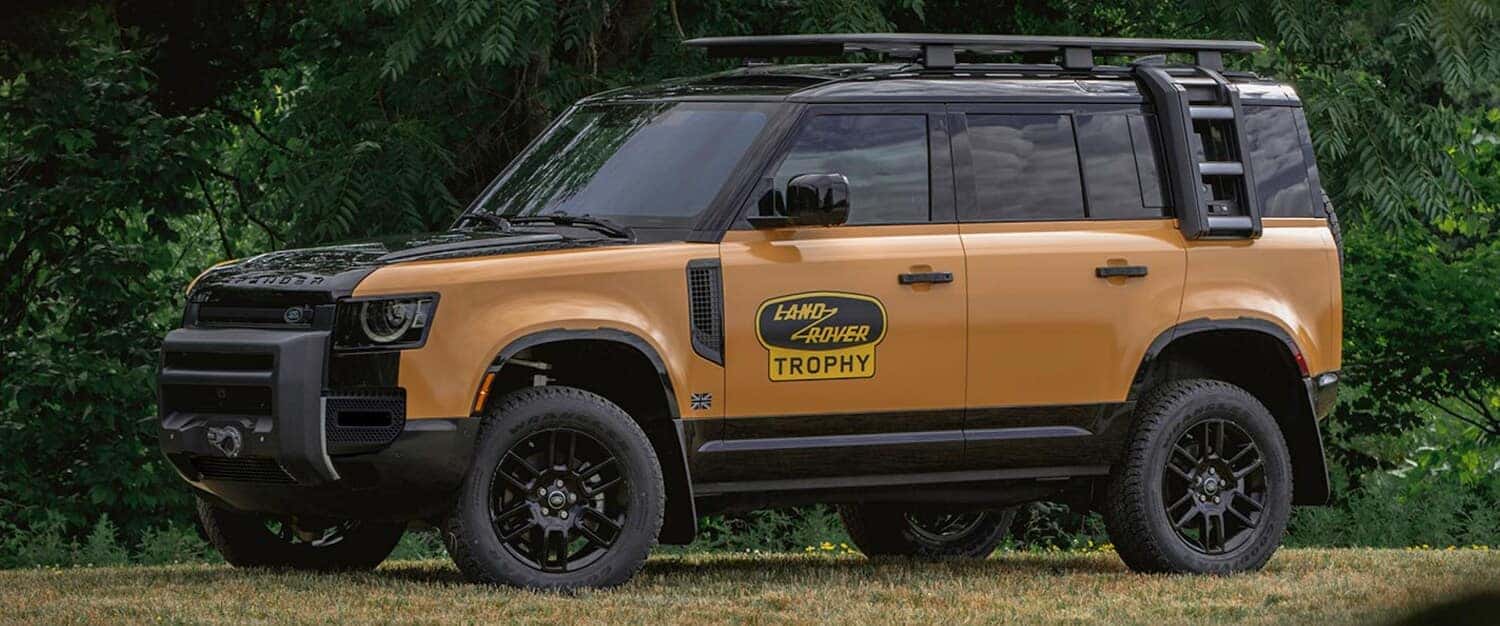 Land Rover Defender Trophy Edition
The Land Rover Defender has long been known for its adventurous 4×4 capability. To pay homage to this long history, Land Rover has created the Defender Trophy Edition, of which 220 models will be made in North America. Based on the 2022 Defender 110 X-Dynamic SE, the Trophy Edition features exclusive, off-roading accessories arranged for the ultimate Land Rover enthusiast. In addition, with each Land Rover Defender Trophy Edition comes an invitation to an off-road U.S. Trophy Competition at the famed Biltmore Estate in Asheville, North Carolina, in which drivers will get one-on-one coaching from a Land Rover expert and then put their off-roading skills to the test behind the wheel of a Land Rover. Please continue reading below to learn more about the Land Rover Defender Trophy Edition and everything it has to offer!
HOW DOES THE DEFENDER TROPHY EDITION STAND OUT?
The Trophy Edition will be instantly recognizable by a vehicle wrap that was inspired by the Defender Works V8 Trophy. The wrap is made of heritage yellow and an extended Black Exterior Package for a contrasting, aggressive look. It will also be recognized by many other features that make the Defender Trophy Edition unique, all of which amplify the Defender's superior off-road capability.
WHAT ARE SOME OFF-ROADING FEATURES OF THE DEFENDER TROPY EDITION?
Even in its most basic form, the Land Rover Defender is a highly competent off-road vehicle. But the Trophy Edition turns this capability up to eleven! As we mentioned above, the Trophy Edition is based on the 2022 Defender 110 X-Dynamic SE. But this special edition adds amazing standard features and packages like the Off-Road Pack, Advanced Off-Road Capability Pack, Air Suspension Pack, ClearSight RearView, a tow hitch receiver, Cold Climate Pack, and an 11.4-inch touchscreen. In addition, being designed to tackle some of the most demanding challenges, the Defender Trophy Edition also features a front under shield, an expedition roof rack, a deployable ladder, an available winch installation kit, mud flaps, deep-sided rubber floor mats, and an integrated air compressor.
CAN YOU TELL ME MORE ABOUT THE U.S. TROPHY COMPETITION?
Of course! With the purchase of a 2022 Land Rover Defender Trophy Edition, customers will get a two-person invitation to the Biltmore Estate in Asheville, NC. Here a trained Land Rover expert will give owners one-on-one coaching to develop extreme driving techniques in their own vehicle before putting the skills they learn to the test. Up to 90 teams will compete in six waves of up to 15 teams on a first-come, first-serve basis. The competition begins on October 11, 2021. The competition includes on and off-road challenges that include team building and physical tests. Then, a panel of judges will determine a winning team who will compete at The Land Rover Trophy Competition at Eastnor Castle in the U.K. in early 2022. The Eastnor Castle is the home of Land Rover testing and development.
GET A LAND ROVER DEFENDER TROPHY EDITION IN MIAMI, FL
The exclusive Land Rover Defender Trophy Edition offers some incredible off-roading features and a unique style that Land Rover does so well. With only 220 Trophy Edition's produced in the United States, don't wait to get yours! Reach out to Warren Henry's Land Rover North Dade by phone, in-store, or right here on our website to learn how to get your hands on the Defender Trophy Edition. We look forward to hearing from you!