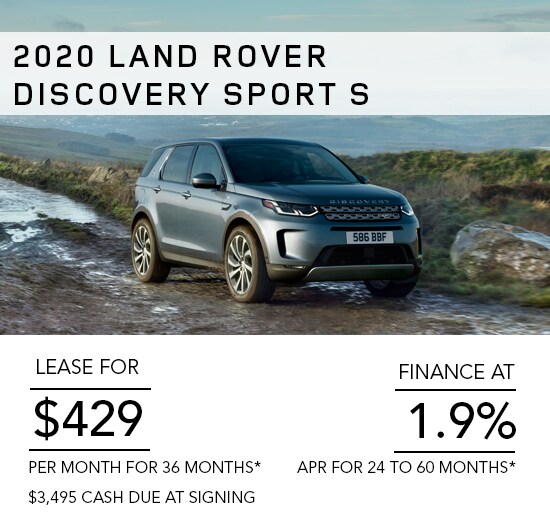 1.*New 2020 Range Rover Evoque S 5-Door with 36-month lease, $3,495 due at signing includes $2,211 down, $0 security deposit, $895 acquisition fee and first month's payment; excludes retailer fees, taxes, title and registration fees, processing fee and any emission testing charge. Actual rates and payments of closed-end lease may vary. Supplies are limited. For well-qualified lessees as determined by approved lender. All amounts shown are estimates; retailer sets actual amounts. Lessee responsible for insurance, maintenance, excess wear and excess mileage over 30,000 miles at $0.15/mile. Based on MSRP of $42,650 (excludes destination and handling). Total of lease payments $14,004. Residency restrictions apply. Lessee has option to purchase vehicle at lease end at price negotiated with retailer and approved lender at signing. Termination fee may apply. Customer must take new vehicle delivery from retailer stock by 3/31/2020. Land Rover or approved lender may rescind or amend this offer without notice. Model pictured may vary from offer. See your participating Land Rover Retailer for complete details, or call 1-800-FIND-4WD / 1-800-346-3493. © 2020 Jaguar Land Rover North America, LLC

*All new 2020 Range Rover Evoque models eligible for financing at the APR shown for well-qualified buyers as determined by approved lender. Payments per month per $1,000 financed, regardless of amount of down payment, can be as low as $42.50 at 1.9% for 24 months or $17.48 at 1.9% for 60 months. All amounts shown are estimates. Retailer sets actual amounts. Supplies are limited. Taxes, title, license and fees excluded. Residency restrictions apply. Customers must take new vehicle delivery from retailer stock by 3/31/2020. Model pictured may vary from offer. See your participating Land Rover Retailer or call 1-800-FIND-4WD / 1-800-346-3493 for qualifications and complete details. Land Rover or approved lender may rescind or amend this offer without notice. © 2020 Jaguar Land Rover North America, LLC 
2. *New 2020 Land Rover Discovery Sport S with 36-month lease, $3,495 due at signing includes $2,171 down, $0 security deposit, $895 acquisition fee and first month's payment; excludes retailer fees, taxes, title and registration fees, processing fee and any emission testing charge. Actual rates and payments of closed-end lease may vary. Supplies are limited. For well-qualified lessees as determined by approved lender. Eligible customers will receive a $0,000 customer credit toward the lease of this vehicle as part of the Land Rover Winter Sales Event offer. Not compatible with other customer credit offers or incentives.All amounts shown are estimates; retailer sets actual amounts. Lessee responsible for insurance, maintenance, excess wear and excess mileage over 30,000 miles at $0.15/mile. Based on MSRP of $41,500 (excludes destination and handling). Total of lease payments $15,444. Residency restrictions apply. Lessee has option to purchase vehicle at lease end at price negotiated with retailer and approved lender at signing. Termination fee may apply. Customer must take new vehicle delivery from retailer stock by 3/31/2020. Land Rover or approved lender may rescind or amend this offer without notice. Model pictured may vary from offer. See your participating Land Rover Retailer for complete details, or call 1-800-FIND-4WD / 1-800-346-3493. © 2020 Jaguar Land Rover North America, LLC

*All new 2020 Land Rover Discovery Sport models eligible for financing at the APR shown for well-qualified buyers as determined by approved lender. Payments per month per $1,000 financed, regardless of amount of down payment, can be as low as $42.50 at 1.9% for 24 months or $17.48 at 1.9% for 60 months. All amounts shown are estimates. Retailer sets actual amounts. Supplies are limited. Eligible customers will receive a $1,000 customer credit against the price of subject vehicle negotiated with retailer at signing. Not compatible with other customer credit offers or incentives. Taxes, title, license and fees excluded. Residency restrictions apply. Customers must take new vehicle delivery from retailer stock by 3/31/2020. Model pictured may varyfrom offer. See your participating Land Rover Retailer or call 1-800-FIND-4WD / 1-800- 346-3493 for qualifications and complete details. Land Rover or approved lender may rescind or amend this offer without notice. © 2020 Jaguar Land Rover North America, LLC 
3.*New 2020 Land Rover Discovery Sport SE with 36-month lease, $3,495 due at signing includes $2,131 down, $0 security deposit, $895 acquisition fee and first month's payment; excludes retailer fees, taxes, title and registration fees, processing fee and any emission testing charge. Actual rates and payments of closed-end lease may vary. Supplies are limited. For well-qualified lessees as determined by approved lender. Eligible customers will receive a $1,000 customer credit toward the lease of this vehicle as part of the Land Rover Winter Sales Event offer. Not compatible with other customer credit offers or incentives.All amounts shown are estimates; retailer sets actual amounts. Lessee responsible for insurance, maintenance, excess wear and excess mileage over 30,000 miles at $0.15/mile. Based on MSRP of $44,600 (excludes destination and handling). Total of lease payments $16,884. Residency restrictions apply. Lessee has option to purchase vehicle at lease end at price negotiated with retailer and approved lender at signing. Termination fee may apply. Customer must take new vehicle delivery from retailer stock by 3/31/2020. Land Rover or approved lender may rescind or amend this offer without notice. Model pictured may vary from offer. See your participating Land Rover Retailer for complete details, or call 1-800-FIND-4WD / 1-800-346-3493. © 2020 Jaguar Land Rover North America, LLC 

*All new 2020 Land Rover Discovery Sport models eligible for financing at the APR shown for well-qualified buyers as determined by approved lender. Payments per month per $1,000 financed, regardless of amount of down payment, can be as low as $42.50 at 1.9% for 24 months or $17.48 at 1.9% for 60 months. All amounts shown are estimates. Retailer sets actual amounts. Supplies are limited. Eligible customers will receive a $1,000 customer credit against the price of subject vehicle negotiated with retailer at signing. Not compatible with other customer credit offers or incentives. Taxes, title, license and fees excluded. Residency restrictions apply. Customers must take new vehicle delivery from retailer stock by 3/31/2020. Model pictured may vary from offer. See your participating Land Rover Retailer or call 1-800-FIND-4WD / 1-800- 346-3493 for qualifications and complete details. Land Rover or approved lender may rescind or amend this offer without notice. © 2020 Jaguar Land Rover North America, LLC
4.*New 2020 Land Rover Range Rover Velar S with 36-month lease, $5,995 due at signing includes $3,021 down, $0 security deposit, $895 acquisition fee and first month's payment; excludes retailer fees, taxes, title and registration fees, processing fee and any emission testing charge. Actual rates and payments of closed-end lease may vary. Supplies are limited. For well-qualified lessees as determined by approved lender. All amounts shown are estimates; retailer sets actual amounts. Lessee responsible for insurance, maintenance, excess wear and excess mileage over 30,000 miles at $0.30/mile. Based on MSRP of $56,300 (excludes destination and handling). Total of lease payments $20,844. Residency restrictions apply. Lessee has option to purchase vehicle at lease end at price negotiated with retailer and approved lender at signing. Termination fee may apply. Customer must take new vehicle delivery from retailer stock by 3/31/2020. Land Rover or approved lender may rescind or amend this offer without notice. Model pictured may vary from offer. See your participating Land Rover Retailer for complete details, or call 1-800-FIND-4WD / 1-800-346-3493. © 2020 Jaguar Land Rover North America, LLC 

*All new 2020 Land Rover Range Rover Velar models eligible for financing at the APR shown for well-qualified buyers as determined by approved lender. Payments per month per $1,000 financed, regardless of amount of down payment, can be as low as $42.50 at 1.9% for 24 months or $17.48 at 1.9% for 60 months. All amounts shown are estimates. Retailer sets actual amounts. Supplies are limited. Taxes, title, license and fees excluded. Residency restrictions apply. Customers must take new vehicle delivery from retailer stock by 3/31/2020. Model pictured may vary from offer. See your participating Land Rover Retailer or call 1-800-FIND-4WD / 1-800-346-3493 for qualifications and complete details. Land Rover or approved lender may rescind or amend this offer without notice. © 2020 Jaguar Land Rover North America, LLC
5. *New 2020 Land Rover Discovery SE with 36-month lease, $4,495 due at signing includes $3,011 down, $0 security deposit, $895 acquisition fee and first month's payment; excludes retailer fees, taxes, title and registration fees, processing fee and any emission testing charge. Actual rates and payments of closed-end lease may vary. Supplies are limited. For well-qualified lessees as determined by approved lender. All amounts shown are estimates; retailer sets actual amounts. Lessee responsible for insurance, maintenance, excess wear and excess mileage over 30,000 miles at $0.30/mile. Based on MSRP of $52,300 (excludes destination and handling). Total of lease payments $21,204. Residency restrictions apply. Lessee has option to purchase vehicle at lease end at price negotiated with retailer and approved lender at signing. Termination fee may apply. Customer must take new vehicle delivery from retailer stock by 3/31/2020. Land Rover or approved lender may rescind or amend this offer without notice. Model pictured may vary from offer. See your participating Land Rover Retailer for complete details, or call 1-800-FIND-4WD / 1-800-346-3493. © 2020 Jaguar Land Rover North America, LLC

*All new 2020 Land Rover Discovery models eligible for financing at the APR shown for well-qualified buyers as determined by approved lender. Payments per month per $1,000 financed, regardless of amount of down payment, can be as low as $42.50 at 1.9% for 24 months or $17.48 at 1.9% for 60 months. All amounts shown are estimates. Retailer sets actual amounts. Supplies are limited. Taxes, title, license and fees excluded. Residency restrictions apply. Customers must take new vehicle delivery from retailer stock by 3/31/2020. Model pictured may vary from offer. See your participating Land Rover Retailer or call 1-800-FIND-4WD / 1-800-346-3493 for qualifications and complete details. Land Rover or approved lender may rescind or amend this offer without notice. © 2020 Jaguar Land Rover North America, LLC
6. *New 2020 Land Rover Range Rover Sport SE with 36-month lease, $5,995 due at signing includes $4,291 down, $0 security deposit, $895 acquisition fee and first month's payment; excludes retailer fees, taxes, title and registration fees, processing fee and any emission testing charge. Actual rates and payments of closed-end lease may vary. Supplies are limited. For well-qualified lessees as determined by approved lender. All amounts shown are estimates; retailer sets actual amounts. Lessee responsible for insurance, maintenance, excess wear and excess mileage over 30,000 miles at $0.30/mile. Based on MSRP of $68,650 (excludes destination and handling). Total of lease payments $29,124. Residency restrictions apply. Lessee has option to purchase vehicle at lease end at price negotiated with retailer and approved lender at signing. Termination fee may apply. Customer must take new vehicle delivery from retailer stock by 3/31/2020. Land Rover or approved lender may rescind or amend this offer without notice. Model pictured may vary from offer. See your participating Land Rover Retailer for complete details, or call 1-800-FIND-4WD / 1-800-346-3493. © 2020 Jaguar Land Rover North America, LLC 

*All new 2020 Land Rover Range Rover Sport models eligible for financing at the APR shown for well-qualified buyers as determined by approved lender. Payments per month per $1,000 financed, regardless of amount of down payment, can be as low as $42.86 at 2.73% for 24 months or $17.85 at 2.73% for 60 months. All amounts shown are estimates. Retailer sets actual amounts. Supplies are limited. Taxes, title, license and fees excluded. Residency restrictions apply. Customers must take new vehicle delivery from retailer stock by 3/31/2020. Model pictured may vary from offer. See your participating Land Rover Retailer or call 1-800-FIND-4WD / 1-800-346-3493 for qualifications and complete details. Land Rover or approved lender may rescind or amend this offer without notice. © 2020 Jaguar Land Rover North America, LLC 
7. New 2020 Land Rover Range Rover SE with 33 month lease, $3,995 due at signing Includes $0 security deposit, $895 acquisition fee ; excludes first payment, retailer fees, taxes, title and registration fees, processing fee and any emission testing charge. Actual rates and payments of closed-end lease may vary. Supplies are limited. For well-qualified lessees as determined by approved lender. All amounts shown are estimates; retailer sets actual amounts. Lessee responsible for insurance, maintenance, excess wear and excess mileage over 30,000 miles at $0.30/mile. 
8. *All new 2020 Range Rover models eligible for financing at the APR shown for well-qualified buyers as determined by approved lender. Payments per month per $1,000 financed, regardless of amount of down payment, can be as low as $42.86 at 2.73% for 24 months or $17.85 at 2.73% for 60 months. All amounts shown are estimates. Retailer sets actual amounts. Supplies are limited. Taxes, title, license and fees excluded. Residency restrictions apply. Customers must take new vehicle delivery from retailer stock by 3/31/2020. Model pictured may vary from offer. See your participating Land Rover Retailer or call 1-800-FIND-4WD / 1-800-346-3493 for qualifications and complete details. Land Rover or approved lender may rescind or amend this offer without notice. © 2020 Jaguar Land Rover North America, LLC 

Vehicles shown may not represent actual vehicle available for special offer. Please see your local Land Rover Retailer for full details.