Top Land Rover Discovery Accessories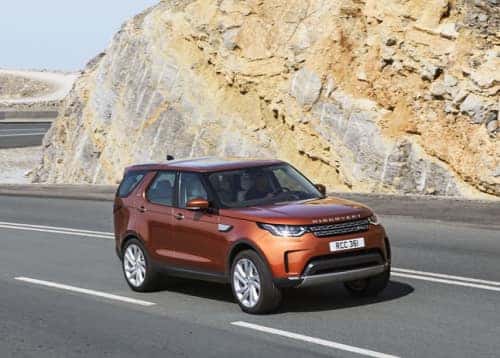 Top Land Rover Discovery Accessories
BROUGHT TO YOU BY LAND ROVER NORTH DADE
Anyone who owns a Land Rover Discovery can attest to the fact that it is an impressive vehicle that is truly impossible to ignore or overlook. At every turn, this SUV is ready to make an impression, and we are here to tell you that you can further add to the mystique. That's right, Land Rover Discovery accessories are here, and they are ready to turn your SUV into something that has been customized to meet all of your specific needs. We are going to be discussing some of the top accessories that you can add with your Discovery model, meaning that you never have to fit in with the crowd ever again. Whether you're looking to change the exterior, interior, or adjust certain carrying and towing capabilities, anything is possible with the available Land Rover accessories.
EXTERIOR ACCESSORIES
What we want to discuss first in terms of accessories are the ones that you'll first notice when driving around. These exterior accessories can make small, yet impressionable impacts, depending on how bold you want to go. This is a great opportunity to make little changes that will leave you feeling like your Discovery was custom made to suit you. There are even some options to better protect your Discovery, even when you aren't driving it!
All-weather car cover
Rear mudflaps
Front mudflaps
Deployable side steps
Fixed side steps
Bright side tubes
Stainless steel undershield
Body side mouldings
Mirror covers
Side vents
CARRYING AND TOWING ACCESSORIES
Next up in the accessories that we're going over are ones that focus on carrying and towing. This is especially helpful for anyone who is incredibly invested in outdoor activities, no matter the season. Everyone wants a better ability to carrying around the items that they need to fully enjoy life, and with the available accessories down below, you will never have an excuse not to bring your bike along, or not to go kayaking. There are even towing-specific accessories that can make bringing your boat to the lake easier than ever.
Aqua sports carrier
Roof rails
Wheel mounted bike carrier
Sports roof box
Luggage carrier
Versatile roof rack
Ski bag
Tow eye cover
Tow hitch
Towing receiver
INTERIOR ACCESSORIES
The final group of accessories that we are discussing are all of the ones that you will find changing the interior of your Land Rover Discovery. These accessories range from technology, pet products, to just simple changes to the inside of your SUV. Whether it's changing up the mat set, or making things a little easier for man's best friend, there are plenty of possibilities here to choose from. You will never feel like Land Rover isn't giving you enough choice, and no matter what you need, you will most definitely be pleased with the selection.
aluminum gearshift paddles
Luxury carpet mat set
Sport pedal covers
Loadspace organizer
Loadspace net
Sunshade
Windscreen sun shield
Pet access ramp
Quilted loadspace liner
Spill resistant water bowl
Rubber mats
Luggage partition divider
DISCOVERY ACCESSORIES AT LAND ROVER NORTH DADE
Have you found some accessories that you intend on including with your Discovery model? Give us a call, order through our service center, and let's make your dream configuration a reality. Anything is possible with Land Rover, and your Discovery is about to be turning more heads as it better reflects your personality and your needs.